Impressive Exterior Floating Stair Ideas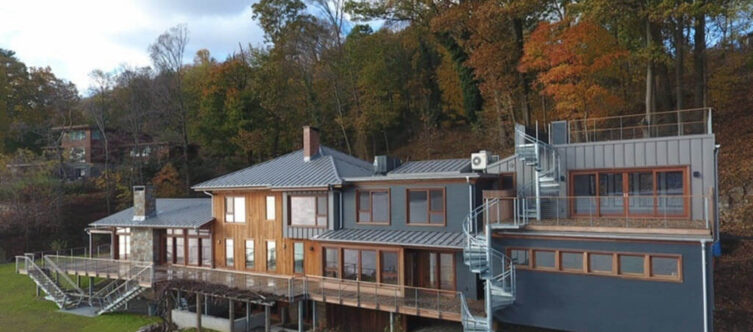 Exterior floating stairs provide egress from your home as well as allow easy access from a raised deck to the ground level of your property. When deciding on the type of stairs for your outdoor space there are many styles and material options available that will complement the design of your residential or commercial property.
Like interior stairs, exterior stairs need to meet required building codes. For example, a landing would be required for any stair that is higher than 12 feet vertically. Building codes vary by state and municipality so it is important to check local building codes for requirements. For example, in most localities, a 36″ high guard rail will meet building codes however in California a 42″ high guard rail is required on stairs.
Exterior stairs need to be engineered to accommodate environmental influences. Tread materials that can withstand the elements are an important factor. The metal structure required for a solid stone tread would differ greatly from that required for a composite tread, a solid wood, or tile tread. The composition of the earth will determine the lower level stringer footings and anchoring requirements. These factors must be carefully considered to ensure a long life for the staircase.
Choosing a floating stair style is totally up to your design aesthetic, we offer a variety of stringer styles, powder-coat colors, and railings to mix and match to achieve your objective.
Exterior Floating Stairs are functional and beautifully complement any home's architecture. See several inspirational and impressive exterior stair ideas below.
Modern Exterior Mono Stringer Floating Stair
The Summit Club is a private residential community located in Las Vegas Nevada that boasts 5-star amenities and views of the Red Rock Canyon. The design of the residences offers a variety of outdoor living spaces with large patios and decks for relaxing or entertaining. For this two-story Dessert Villa, we designed an exterior floating stair to provide access from the patio to the second story.
We collaborated with Discovery Builders on the design of the exterior stairs and railings for this project . The stairs are engineered to support the weight of the travertine treads including custom tread supports. The railing posts are connected to the stair stringer below the treads to prevent stressing the stone treads. The stair stringer is made of square steel tubes with the stair configuration incorporating two landings. The curved cable railing posts continuously wrap the stairs and deck. The posts design tapers to the top and has a round stainless steel handrail. Hidden wire channels are built into the steel structure of each tread to provide LED lighting on the leading edge of each tread.
Exterior Stairs and Railing – Steel stringer with custom-designed tread supports. Curved railing posts, and round stainless steel handrail.
Material -Steel stringer and posts, stainless steel handrail.
Finish – Powder Coated – "Black Anodized"
Additional Option – LED lighting built into the leading edge of each tread.
Offset Cantileverd Floating Stair with Stone Steps
We collaborated with architect Viebeke Lichten on the innovative design of this offset cantilevered stair and railing system for this concrete home known as the ECO House on Shelter Island, NY. The stairs provide outside access from the garage level of the home to the upper-level pool patio and main entrance.
The stair stringer is crafted from a 4-in by 10-in rectangular tube with a 3/8-in wall. The design of the stairs has the stringer offset to one side of the steps. The custom cable railing post has a tapered shape that complements the modern aesthetic of the home. The tread supports are designed to accommodate the weight of the bluestone steps. Each railing post is welded to the tread support below the step. The stairs and railings are powder coated a custom color to match the home's window and door accent color.
Exterior Stairs and Railings – Offset steel stringer with custom tread supports and unique tapered cable railing posts.
Material – Steel stringer and railing posts with IPE top rail.
Finish – Powder Coated "EVO Grey".
Floating Exterior Stair and Horizontal Round Bar Railing
This modern cube-style home has simple geometric shapes and a minimalist appearance. The exterior of the home expertly combines cedar siding with concrete and steel to delineate the variety of cubic spaces. The architects at The Thread Collective contacted im电竞 to create floating stairs and horizontal round bar railings aka pencil rod railings for both the interior and exterior of this home.
We crafted the exterior stairs with double stringers made of C-channel and a horizontal round bar railing system. The stair treads are made of 1-1/2 in x 3 in IPE slats with space in between each board resulting in a wood grate appearance. Custom tread supports were designed on the stringers to support the unique wood tread design. The exterior railings have a simple sleek look with black metal balusters and horizontal round bars. The railing posts are surface mounted and wrap the stairs, decks, and rooftop deck.
Stairs and Railings – Custom double stringer stair with c-channel stringers and a steel pencil rod railing.
Material – Steel stairs and railing with IPE top rail. IPE wood treads are vertical 1-1/2 x 3 in slats.
Finish – Powder Coated "Raven Texture Black"
Galvanized Exterior Floating Stairs and Spiral Stairs
Located on the Hudson River, NY with beach and water access this family vacation home was in need of a complete renovation. The original structure was completely remodeled and expanded to increase the living space. Since the owners enjoy entertaining, multiple decks were added to the home including a rooftop deck.
To access the rooftop deck we crafted a triple spiral stair with wide steps and ADA compliant handrails. The spiral stairs are designed to have entry points at the ground level, on each deck, and on the rooftop. In addition, there are two matching floating stairs to the main deck allowing for easy access to the water level of the home. The cable railing system is the Ithaca Style with a slim post design, the railings wrap all of the decks and stairs. The stairs and railings are made of steel with an exposed galvanized finish that has an industrial style and will provide decades of maintenance-free service.
Exterior Stairs and Railings – Custom-designed double stringer matching stairs and triple-level spiral stairs with ADA handrails. The cable railing system is our Ithaca Style railing posts with IPE top rail.
Material – Steel with IPE top rai ls .
Finish – Exposed galvanized steel.
Additional Option – ADA compliant handrails.
Modern Floating Stair with Stone Treads
This family decided to build their dream home alongside the picturesque golf course in St Louis, Missouri. They envisioned enjoying the golf community lifestyle with visually appealing views of plush greens and rolling hills. They designed their home with multiple decks overlooking the golf course, a screen porch viewing area, and a pool patio oasis.
To access the pool and complement the home's architecture the client chose a floating mono stringer stair with stone treads. The stair and tread supports are engineered to support the weight of the blue-stone treads with the railing posts attached to the stair stringer. The stringers and railing posts are powder-coated to match the home's accent colors. To maintain the views cable railings were chosen to wrap the decks, floating stairs, and screen porch.
Exterior Stair and Railings – Floating stair stringer with landing and the I thaca Style cable railing system.
Material – Steel stringer and posts with aluminum top rail.
Finish – Powder Coated "Oil Rubbed Bronze".
Additional Option – Escutcheon Plates for surface mount posts, and gates.
Industrial Split Stairs with Cable Railings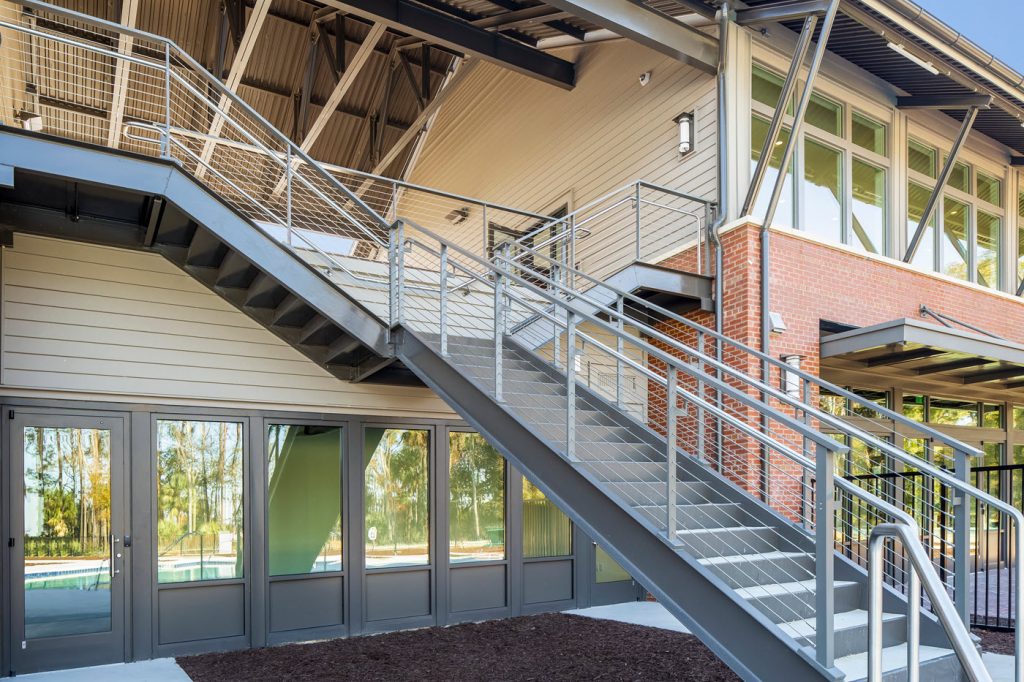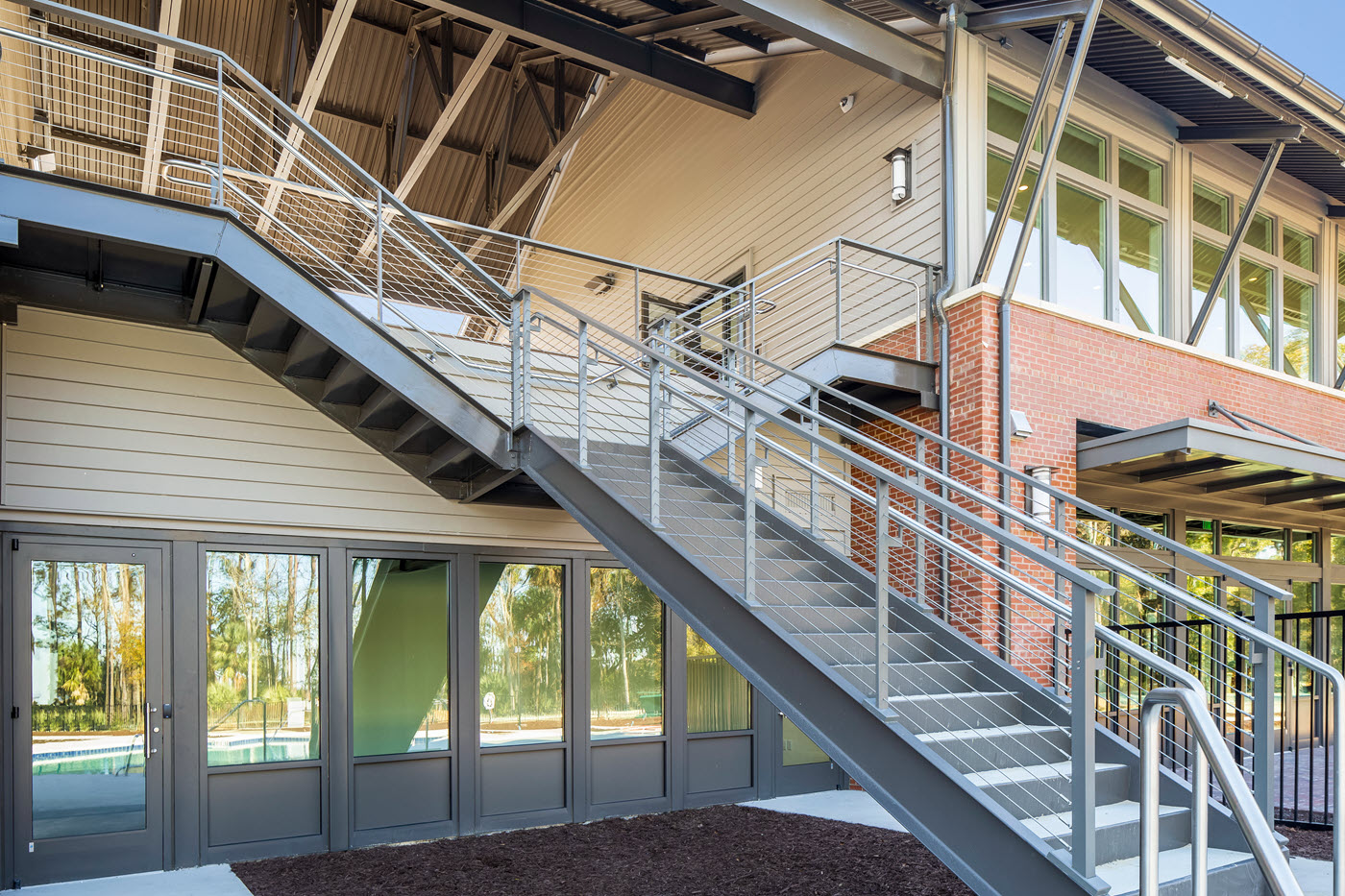 Waterways Marina in Richmond Hill, Ga, is located along Redbird Creek with access to several waterways. This state-of-the-art full-service facility features boat launches, boat storage space, and an expansive pool. The exterior split staircase has channel-style stringers and provides access to the upper level of the Club House.
The stair and balcony railings are made with solid aluminum posts at a 42-in height in our Ithaca style with ADA compliant stainless steel handrails. The top rail is powder-coated aluminum and the cable railing system is 3/16-in stainless steel cable. The balcony railings are fascia mounted and the stair railings are surface mounted.
Cable Railings – Ithaca style surface and fascia mounted slim posts at 42-in height with ADA compliant handrails.
Material – Solid aluminum railing posts with stainless steel handrails, and aluminum top rails.
Finish – Powder Coated "Autumn Grey".
Exposed Stringer Cantilevered Floating Stair
A post and beam home was disassembled and moved to a new location on top of a mountain in Stowe, VT. Each section of the home was labeled and numbered for easier reassembling in the new location. Since the client lived in the home for many years they knew what changes they wanted to make to the overall plan of the house. So they decided to take this opportunity to redesign part of the interior floor plan and added exterior floating stairs to the deck.
We designed an exterior floating stair system with robust steel stringers. The steps cantilever off the stringer on one side of the stairs, and transition to the other side at the landing. The cable railing system is our Ithaca style in stainless steel with a wide IPE wood top rail. The railing posts are fascia mounted to the deck and stairs.
Exterior Stairs and Railings – Custom cantilevered stringer stairs with our Ithaca Style cable railing system.
Material – Steel stair stringers with stainless steel railing posts and IPE top rail.
Finish – Stair stringers are Powder-Coated "Raven Texture Black"
Exterior L-Shape Floating Stair – Log Home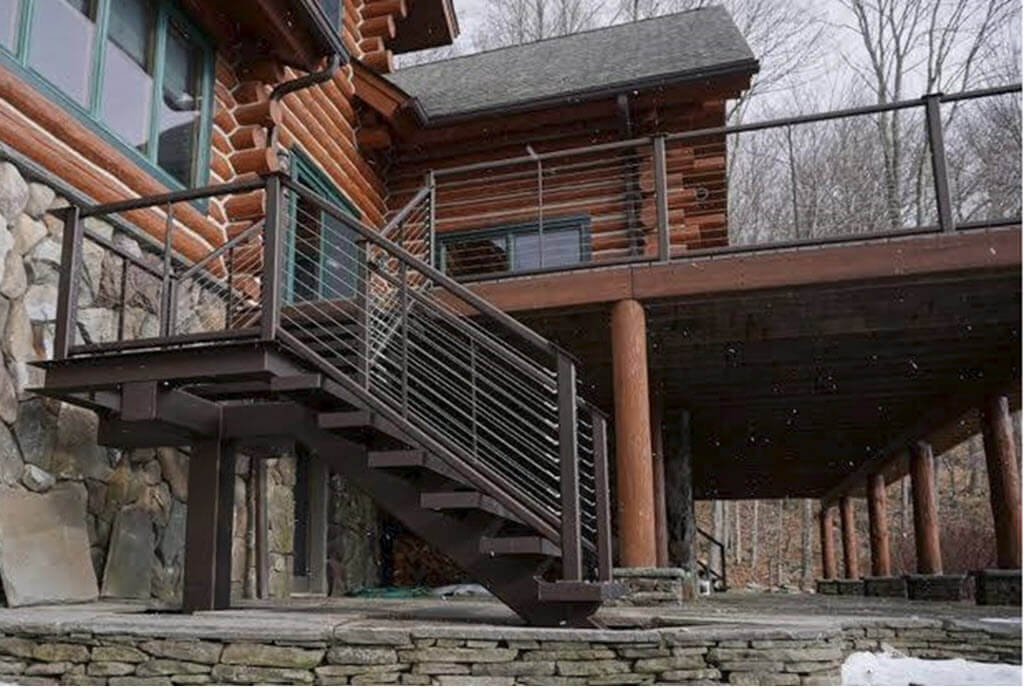 Located in the Catskill Mountains, NY, a weathered and damaged deck needed to be completely refurbished. Our client chose to replace an old split log style deck railing system with a framed metal cable railing . They were looking for a system that would hold up better to the natural elements of the area. The existing heavy log railing impeded their views of the mountain range so a cable railing seemed like the perfect choice.
This railing is custom-designed with 3-inch square tube posts giving the railing visual mass that complements the large timber log structure. They also decided to add a floating staircase for easy access to the ground level. The floating stairs have a large rectangular metal tube stringer with metal tread supports and a landing partway down the stairs. The treads, decking, and top rail are made of composite material.
Ex t erior Stairs and Railing – Custom Design Style with Framed railing and 3 in square posts.
Material – Steel
Finish – Powder Coated "Oil Rubbed Bronze"
Exterior Spiral Stair Ideas
Floating spiral stairs offer a way to access the upper level of your deck from a porch or patio without taking up as much space as a conventional straight stair. These metal spiral stairs have a curved cable railing system with railing posts that connect to each step. The handrails gracefully curve around the spiral of the steps. The steps are designed to be wider to provide a comfortable tread surface for ascending and descending the stairs. LED night lighting is concealed within the steps.
Stairs and Railings – Spiral Stairs with our Keuka Style curved railing system.
Material – Steel center post, steps, and railing posts.
Finish – Powder Coated "Raven Texture Black"
Additional Option – Concealed LED lighting, Non-skid step surface.
Every im电竞 design project is custom-built for your space. To learn more about how each exterior stair and cable railing project moves from vision to reality, take a look at our custom railing design process . We take pride in building craftsman-quality and commercial-grade cable railings for interior and exterior applications.